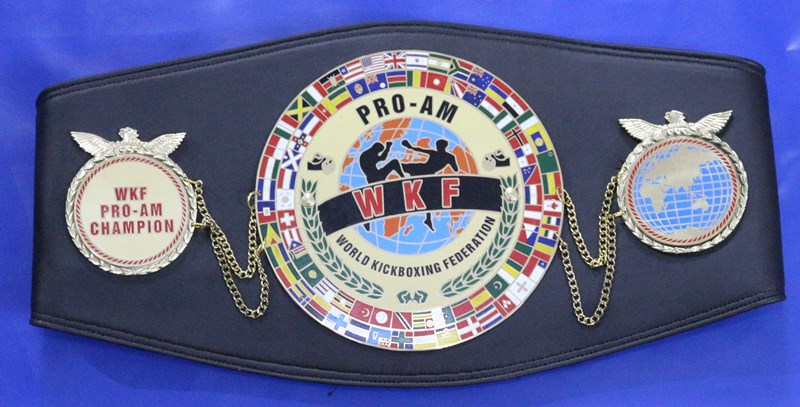 Any new WKF Champion will have the option of defending the title within first six (6) months of their reign.
After six (6) months a title defence will be mandatory. If a Champion had not made a defence for more than twelfth (12) months they will be declared inactive, they would have no choice but to defend against the first qualified challenger,  for the WKF defined minimum salary.
If a Champion had not made a defence for more than eighteen (18) months the WKF can declare the title vacant without giving notice. If a current champion wins the title in line (e.g. if a national Champion wins any European title) the lesser title will be automatically vacated.
This is the amazing WKF PRO-AM champion belt, for all our World wide amateur fighters, who want to request to fight for the high class PRO-AM amateur title.
Your fighter could challenge any fighter from the PRO-AM World ranking for continental and World titles.
The rules and "title fight minimum requirements" are clear and our head office is open for any request, just send your mail.
Many tournaments on all continents has many competitors and now World Kickboxing Federation offers the Chance to fight for a real PRO-AM  title with a great value and real amazing Champion belt, sanctioned by our World wide federation.
Posted in the weekly updated PRO-AM World ranking and with high value.
Send your best amateurs in ring sport, male and female for the World ranking, just to get a chance to fight!
Just fill in the Fighter profile and send with JPG photo back to our WKF PRO-AM head office by mail.
Valid with same PRO-AM rules everywhere, same requirements like in professional Ring sport. Fighting time for all PRO-AM titles is 5 rounds 2 minutes and 1 minute break.

Professional weigh-in a day before, 3 international judges, WKF supervisor, flags and anthem and the amazing belt on the top.
If you are interested to promote a PRO-AM European, Continental or World title send just a request to our Head office by mail.